Mission Statement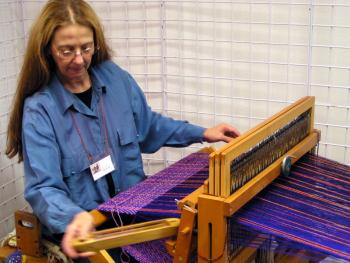 The Olympia Weavers Guild is a non-profit organization of active weavers meeting together to share information, knowledge, and techniques and to provide guidance, encouragement, and inspiration to those interested in the craft of Handweaving.
The OWG is registered under IRS code 501(c)(3). Members may apply for educational grants.
---
Guild Contact Information
Email: info@olympiaweaversguild.org
---
Documents
NOTE:  The following are PDF documents, except where noted.  If you have trouble displaying these in your Internet browser, right-click on the link and download the file to your computer, then view with Adobe Reader, using your computer's file browser.  Or, make sure you have the Adobe plugin installed and enabled on your browser.
Links to By-Laws, Policies and Procedures
OWG Draft Updated Changes to By-Laws -January 25, 2022
OWG Policies and Procedures 2021
Other Documents
OWG Guidelines for Posting on Website and Facebook
OWG – Harmony Hill Outreach Fiber Content etc. Tags
Double Weave Selvages Instructions
OWG Show and Sale Documents:
Beginning in 2016, the Show and Sale will use Point of Sale Software instead of the manual tags and inventory sheets used in prior years.  Members, please read the following instructions and guidelines for using the new system.
Show and Sale Guidelines
Point of Sale Application Overview
POS Artist Instructions
OWG Library Documents:
OWG Catalog by Author Updated June 2019
OWG Catalog by Title Updated June 2019
OWG Library List (web site link)  A partial catalog of titles available in the OWG library, by subject, hosted on www.librarything.com.
OWG Properties Available for Loan to members:

OWG Properties Available for Use by Members
Membership Application/RENEWAL Form:
OWG Membership Application/Renewal Form
Miscellaneous Forms
The following PDF forms are for convenience when requesting or making payments to the Guild.
OWG Check Request Form (print out, fill in, and obtain required signatures to request payment from the Guild–half-page form, two per page)
OWG Cash Receipt Form (print out, fill in, place in envelope with checks and cash.  Do not mail cash, deliver in person to Treasurer).
OWG Count Sheet (print out, enter amounts of each monetary form, list checks, and sign, and deliver to Treasurer).