Monthly Archives:
April 2014
This gallery contains 20 photos.
Flo Hoppe Workshop
Northwest Basket Weavers Guild is hosting a Flo Hoppe weekend. She is coming to the Seattle area end will do 2 one day workshops on Saturday and Sunday May 3 and May 4, 2014. These will be held at the Maplewood Rock and Gem Club at 8802 – 196th St SW, Edmonds, Washington.
Flo is a full-time studio artist, teacher, and author. She began her career in 1971 teaching herself basketmaking from a small booklet published in 1924. Her emphasis is on wicker basketry and Japanese basketry. She lived in Japan from 1968-1971, and on a return trip to Japan in 1994 studied with two master basketmakers. Her published books are entitled "Wicker Basketry" and "Contemporary Wicker Basketry". She has also co-authored "Plaiting with Birch Bark" with Vladimir Yarish and Jim Widess. She teaches and exhibits worldwide, with teaching venues in England, Canada, Japan, Russia, and Australia.
Japanese Basketry Techniques
SATURDAY MAY 3
8-hour class
All levels of weavers
Dimensions: various
Cost: $145 including materials
Students will weave 5 baskets weaving with several different techniques using both round and flat reed. Techniques include randing, twill weaves, false twining, and interlacing. This is for all levels of basket weavers.
Brigadoon
Sunday May 4th
8-hour class
Advanced weaving level
Dimensions: 10" diameter x 5 3?4" H
Cost: $125 includes materials
Brigadoon has an unusual variation of chasing weave. Tripled spokes are spread apart on each side of a central spoke to join with a single spoke to again make tripled spokes creating a striking leaf-like pattern. The top band of color is a combination of twining and randing that I learned in Japan from a master basketmaker. The border is a simple 3-row rolled border. For advanced basket weavers.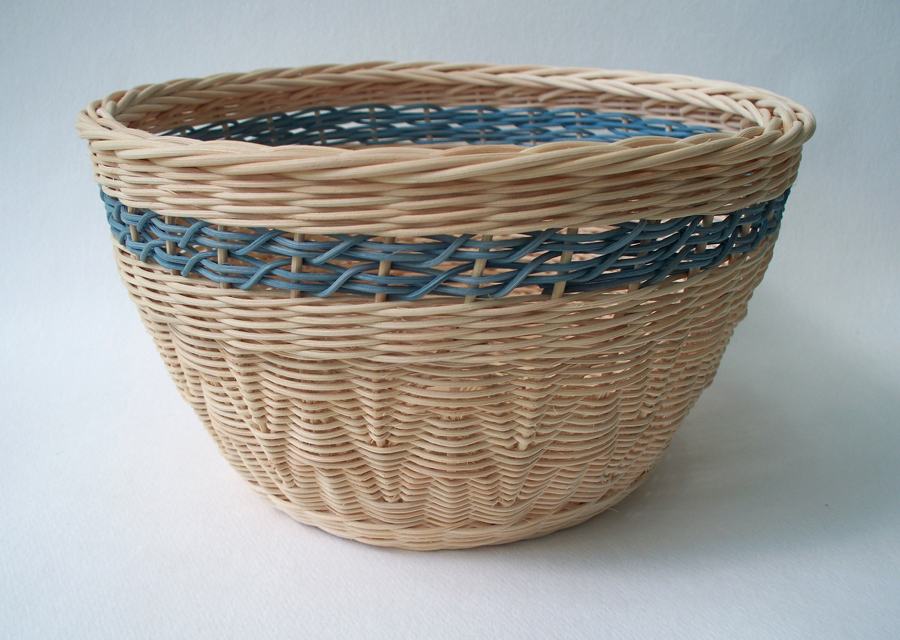 Flo Hoppe Workshop registration
Classes will be held 9:30 a.m. to 6 p.m. each day, including a lunch break. Please
bring your lunch as there are not restaurants close to the classroom. Chose which class(es) that you want to take:
1. Japanese Techniques on Saturday May 3, 2014 cost is $145 includes materials
2. Brigadoon on Sunday May 4, 2014 cost is $125 includes materials
For questions, more information, or assistance in please contact Jill at jillgreen@mac.com, or call 206 324 4714 or Elaine at a.twogood@att.net
Cancellation Policy: A full refund, less $20 processing fee.
Name:
Day phone:
Address:
Eve phone:
City/State/Zip:
E-mail:
Class Choice(s)
1. Japanese Techniques
$145
2. Brigadoon
$125
Total enclosed:
REGISTRATION DEADLINE: April 26, 2014
Please enclose a check for the amount of the class or classes that you want to take,
made payable to: Northwest Basket Weavers (or NWBW), and mail to:
Elaine Twogood.
2539 56TH AVE NE
TACOMA, WA 98422