The Creative Approach Mobile Educational Loom (referred to as the CAMEL), provides an opportunity to explore weaving techniques or structures on a pre-warped loom. The loom is passed from house to house of each participant. A table loom is used, making it portable and providing boundless freedom to "lift" shafts individually, allowing the weaver to change patterns (otherwise known as tie-ups and weft picks) on a whim. This year the focus will be on 8 shaft weaving.
CAMEL Adventure #1
The purpose of this first project for the year was to see the almost endless weaving possibilities of a simple Straight 8 threading. This means threading each shaft sequentially (1-2-3-4-5-6-7-8) repeatedly. It's the easiest 8-shaft threading and a terrific place to start.  The participants were then able to try numerous twill patterns, along with canvas and other weave structures that adapt to a Straight 8 threading.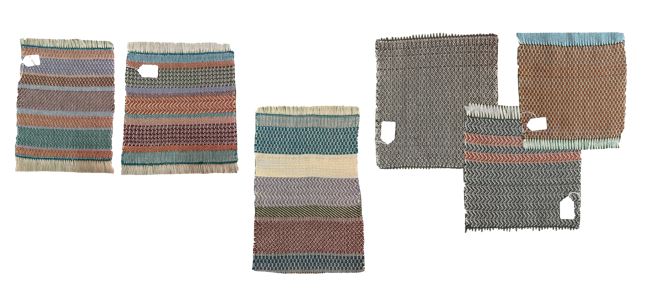 Adventure #2 will feature False Satin, and promises to be just as interesting and fun as the first adventure!