When creating your own color combination for Kumihimo, take a photo of the starting "setup" so that you can reproduce it later. Attach your samples next to the photo print-out.
Use fusible thread when seaming – weave in a few picks – A Margaret Coe trick that she shared in 4 shaft weaving on Facebook. For more ideas on this tip see: http://joyofweaving.com/articles/weaving-tips-invisible-fusible-thread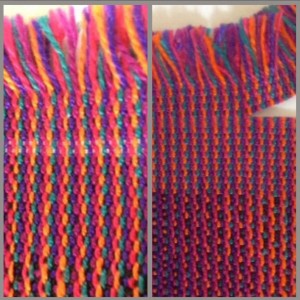 …credit to Margaret Coe for the tip, I'm including her picture that she posted to demonstrate.
OWG's library has a DVD "The Loom Owner's Companion – Know and Love Your Loom!" by Tom Knisely. It is a excellent resource if you are having problems with your weaving and not sure why. Many problems with loom or other tools are described and how to repair. All parts of the loom, types of looms and tools purpose are described and how to maintain them. When was the last time you did preventive maintenance on your loom? This DVD covers what to do to keep your loom in working order. It is a must see. For a preview see: https://www.youtube.com/watch?v=Iwu1pgZnXfA
In the basket study group one was observed using small bundles of sea grass and mentioned that when a large bundle is purchased the first thing that was done was to cut up the large roll into the typical length used. This was followed by comments: "Why didn't I think of that!". I used that tip recently and was happy with the results. If you are with a study group or with others and your hear a great idea that you want to use, write it down and drop it in the TIP JAR at the next OWG program or mail it to getrotter@comcast.net. It could be about weaving, who to travel with or maybe a great gardening tip. What are we learning?